Get a Deck Inspection If Your Deck is More than Ten Years Old. It May Not be Safe
Decks Are Involved in More Injuries and Deaths than Any Other Part of a Typical House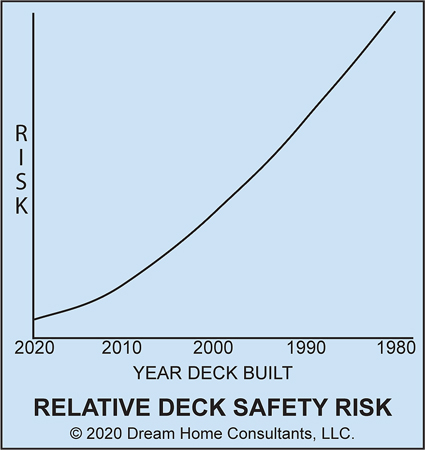 Decks are more complicated to build and to inspect than most people realize. Consider the following facts:
Building codes had few details about decks before about 2009.
Even current building codes lack important details about deck construction.
Decks are often built and renovated without being inspected by a qualified inspector.
A deck that looks good from above can have serious structural defects when looked at from below.
A thorough deck inspection requires a lot of time, and a lot of extra training.
Experts recommend that a qualified deck inspector should inspect your deck at least every ten years. More frequent inspection of decks is prudent if the deck is exposed to salt water, and if the deck is in an area with frequent rain or snow. A qualified deck inspector should inspect every deck that was built without a permit. We wrote the national standard of practice for deck inspection. We teach the national training course for deck inspectors. We are among the most qualified inspectors in North America to inspect your deck.
When Is the Last Time You Looked Under Your Deck?
The following are photographs of only a few of the defects we have seen during a deck inspection. It is important to note that defects have been found not only in decks on older homes, but also in new construction.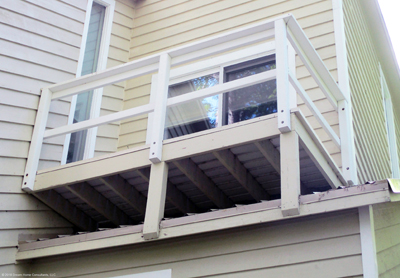 All Pictures are copyrighted by Dream Home Consultants, LLC. No permission to use is granted without written authorization.